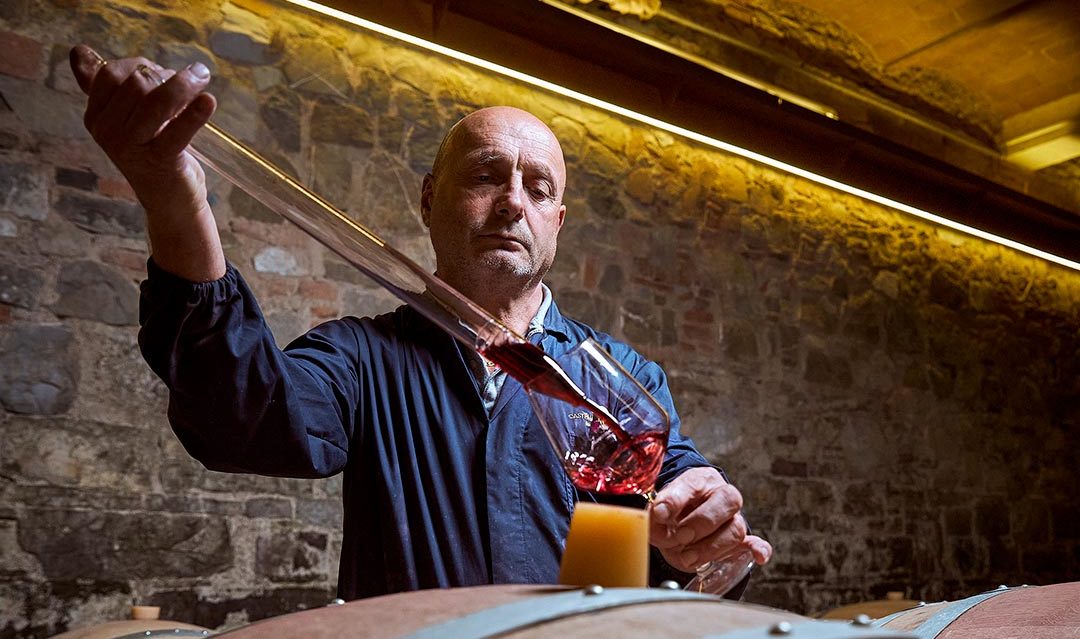 19 Jul

What happens before the bottle?
Winemaking differences of our three Chianti Classico
(even, what happens before the bottle?)
Let's start from the beginning.
The harvest here at Castello Monterinaldi is between September and October. The perfectly ripe grapes are harvested by hand, de-stemmed, and then sent directly to our concrete tanks.
Here, after a while, the alcoholic fermentation starts thanks to the indigenous yeasts that naturally live on the grape skins. Their task is to "eat" the sugar and turn it into alcohol and carbon dioxide (this process takes about two weeks).
Then we leave the skins in contact with the wine for about 10-15 more days in order to have more extraction of tannins, anthocyanins and other polyphenols… once we have reached the desired extraction we remove the skins, which we send to the press, and we leave our wine always in the concrete tanks where a second fermentation starts in January: the malolactic fermentation.
This fermentation is a process in which tart-tasting malic acid, naturally present in grape, is converted to softer-tasting lactic acid, thanks to the lactic bacteria.
During the malolactic fementation, malic acid, the more sour, is transformed into lactic acid, a weaker acid than malic, which is perceived as more delicate and less acrid. So this process helps to obtain a softer and more balanced wine, more persistent, richer in body (due to the concentration of polysaccharides) and with finer aromas.
Afterwards the wine takes different paths
1. Chianti Classico Vigneto Boscone: this wine comes from a single vineyard, the highest (470 m a.s.l.) and the oldest (from 1989). After the two fermentations it ages for 26 months in concrete tanks, so there is no influence of wood aromas. After bottling, we wait 3 months before putting it on our shelves. This Chianti Classico shows a brilliant ruby red color; by the nose in evidence a beautiful complexity of red fruit with wild cherry and tertiary aromas of evolution with spices notes. By the palate the fruit is predominant with a nice acid shoulder and well-integrated tannins that contribute to an important structure while still mantaining elegance and drinkability. Long and persistent after taste.
2. Chianti Classico Riserva: it is the result of our top selection of Sangiovese grapes of our property. This wine is aged in big 30 hL French oak barrel for 24 months and then 6 months in bottle. Our Riserva has an intense dark ruby red color, full bodied, great complexity by the nose with hints of dark fruits blended with notes of black pepper, cloves, tobacco and leather. It's perfect with red meat, venison and aged cheeses.
3. Chianti Classico: after the two fermentations, the 30% of the total volume is aged for 6 months in French oak 225 L barriques and 500 L tonneaux (2nd and 3rd passage), the rest is aged in concrete vats. At the end we make the blend and we bottle. After 3 months of bottle aging the result is a wine with a brilliant ruby red color. By the nose it shows a wide range of fresh sensations of cherry, blackberry, rose and violet. By the palate it reveals a dry sensation perfectly balanced to the silky tannins and the fruity taste. The Chianti Classico perfectly pairs with Parmigiano cheese, sheep cheeses, cold cuts, roast meet and chicken.