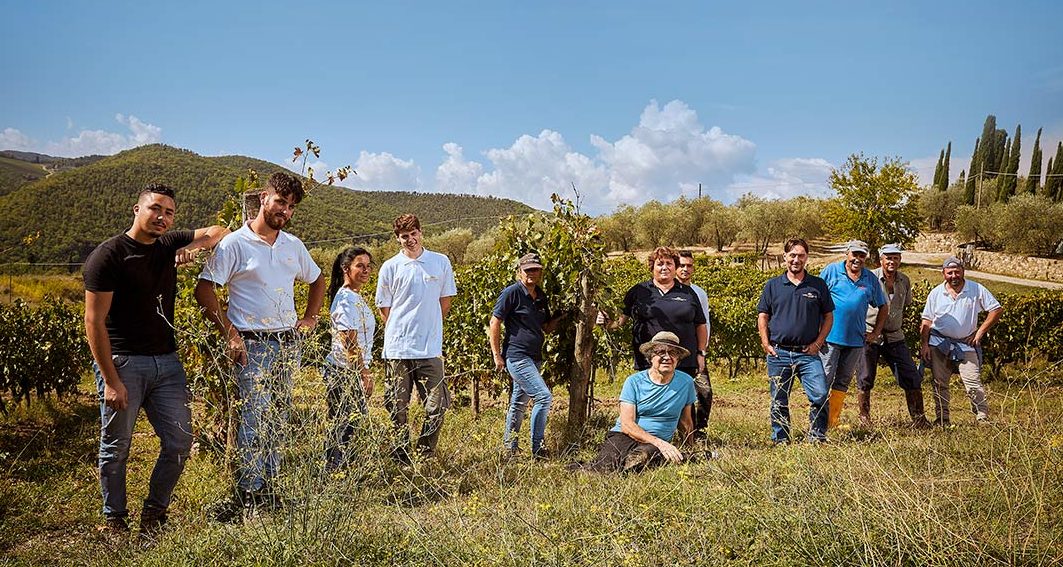 03 Nov

2020 Harvest
2020 Harvest
A vintage that came good in the end
We can't say this last 2020 has been all bad, it's given us excellent grapes and so the vintage promises to be a good one… at least from a wine-making point of view!
Overall, the seasonal trend fell within the average values and was quite favorable.
In particular, the last winter wasn't as harsh as it normally is here in Tuscany, but the temperatures suddenly fell on Easter Sunday, in April.his sudden cold spell burned some of the fertile buds, which consequently led to a 10% loss in production. Fortunately it was an isolated incident, after which the spring temperatures settled: May and June were characterised by regular rainfall and the classic diurnal ranges typical of our region.
Diagnose of possible risks
A dry summer followed, characterised by average temperatures without any excessive surges in heat, but with a high humidity rate. Due to the latter, here in the Chianti area we had a few problems with Oidio, a fungus which if not properly diagnosed and treated in time, risks infecting all green organs of the vine, causing major damage to the inflorescences, clusters and individual grapes. Luckily for us, our agronomist Mauro Bennati was very quick to diagnose and treat it with sulphur, given we practice organic farming, and therefore any unpleasant consequences were safely avoided.
End of Summer
At the end of the summer, the dryness caused our grapes to be partially dehydrated and the laboratory analyses therefore showed a high alcohol content and minimal liquid.
However, in early September the rains started again, which restored the plant's optimal physiological balance. In fact it was during this last month that technological maturity (which concerns the ratio of sugars to acids) was perfectly aligned with phenolic maturity (which concerns the concentration of phenolic substances in the grapes, such as tannins and anthocyanins).
The harvest times
We therefore began the harvest on 17th September with healthy, ripe and ready grapes. The harvest was incredibly fast this year, lasting only 3 weeks because the different varieties and plots matured more or less in the usual period. Regardless, we started by harvesting the Sangiovese intended for the production of Aìre, our sparkling brut rosè, to ensure its higher acidity with respect to the Sangiovese used for our reds.
Immediately afterwards we harvested the Trebbiano, Malvasia Bianca and Sangiovese intended for the production of Vin Santo. These clusters have been left to wither in our attic, where they will stay until next January. Then we harvested the international varieties (Merlot, Cabernet Sauvignon, Syrah, Petit Verdot and Cabernet Franc) and the youngest Sangiovese vines, and lastly the oldest vines used for the Chianti Classico Riserva and the Boscone vineyard.
In conclusion
Therefore, considering the weather forecast and physiological trend of the vines, it seems that 2020, at least from a viticultural perspective, won't let us down!
We are now looking forward to the next few days for a new harvest: the olive one!