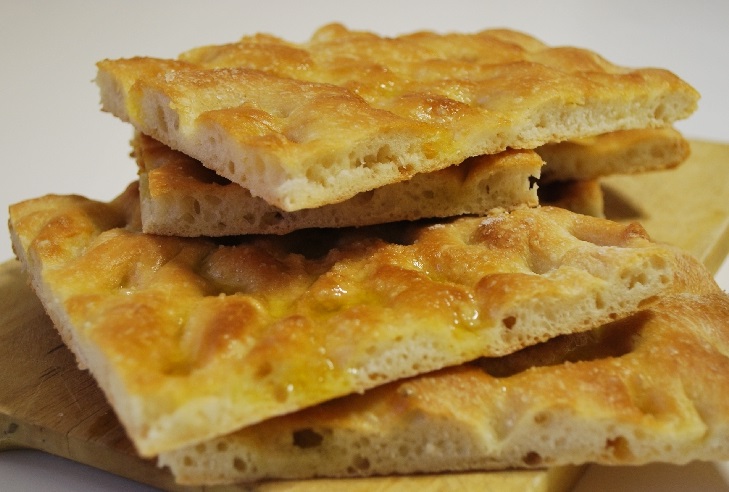 24 Jul

SCHIACCIATA (Focaccia dough)

The Schiacciata, in Tuscany, is a flat oven-baked Italian bread product similar in style and texture to pizza dough, seasoned with olive oil and salt. It can be used as a side to many meals or as sandwich bread. It may be served as an antipasto, appetizer, table bread, or snack!
Ingredients for 2 lbs (900 g) of dough:
• 1 ¼ cups (300 ml) of water
• ½ tbsp (8 g) of salt
• just under 1 tsp (3,5 g) of active dry yeast or ½ oz (12 g) of fresh yeast
• 4 cups (500 g) of all-purpose flour
• 1 ½ tbsp (25 ml) of Castello Monterinaldi extra virgin olive oil
Preparation:
Preheat oven to 390°F (200°C).
In a small bowl, combine the active dry yeast or ½ oz (12 g) of fresh yeast) with a little lukewarm water, taken from the total amount of water, and 2-3 tbsp of the flour.
Make a batter and let it rest for about 30 minutes.
Put the remaining flour in a large bowl. Make an indentation in the middle of the flour, pour in the batter, and mix into the flour. Add the salt and the oil to the remaining lukewarm water, then pour into the flour mixture. Bring the ingredients together with a fork. Work quickly with sweeping movements. Cover with saran wrap and let it rise for at least 2 hours.
Sprinkle the work surface with flour, turn the dough out of the bowl, and roll it out on the work surface. Place it in the middle of a baking tray that has been lined with parchment paper.
Bake in the preheated oven for about 20 minutes.
You can also fry the dough in hot oil to get "Coccoli", a typical Tuscan dish, to eat with ham and "stracchino" (a fresh and creamy cheese) or with fresh tomato!