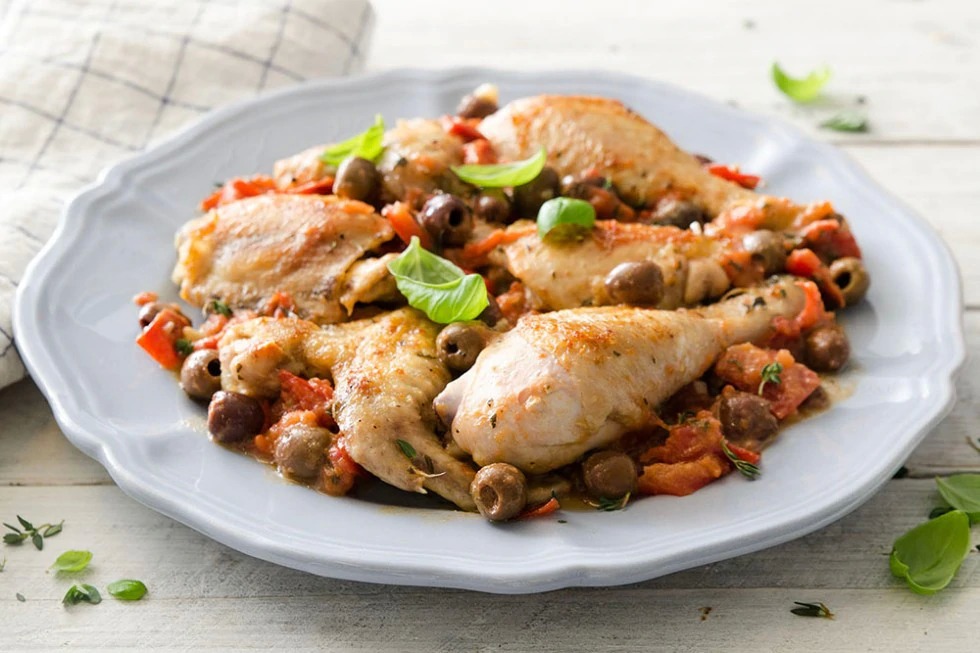 17 May

Chicken with olives

Chicken with olives is a main course of white meat and it is made with two main ingredients quite quickly.

A really fast and simple recipe, without neglecting taste and flavour. The olives in fact give the dish its savoury quality and aroma making the cooked base very special and they go deliciously with the perfumes of the aromatic herbs!
Ingredients:
Serves 6:
• 1 chicken, about 2,2 lb (1 kg)
• 2 cups (300 g) of black olives
• ½ red onion
• 2 cloves of garlic
• Rosemary
• Salt
• White wine
Preparation:
Clean the chicken, wash and dry well, then cut into pieces.
Slice the onion and let it soften in the pan together with extra virgin olive oil. When it is translucent add the chicken pieces skin side down and let them cook till the skin is brown.
Mince 2 cloves of garlic and rosemary finely and add to the chicken. Turn chicken over, salt and let it brown again. When it is well browned on each side pour white wine almost to cover the chicken.
Add the black olives cover with a lid and let it cook for about 40 minutes – 1 hour.
The chicken should be moist and golden and olives should be crisp and there should be only a little thickened sauce.