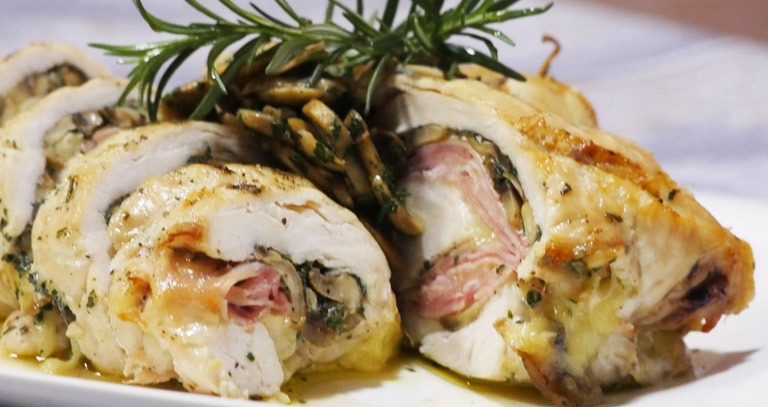 01 Apr

Chicken rolls (Rollé di pollo)

Chicken rolls is a classic of Italian cuisine. Being a fast and tasty dish that everyone loves, it is a good option even if you have unexpected guests for dinner!
Ingredients:
Serves 6:
• 21 oz (600 g) thinly sliced chicken breasts
• 10 oz (300 g) slices of scamorza cheese
• 3,5 oz (100 g) thin slices of pancetta
• 10 oz (300 g) fresh spinach leaves
• 1 unpeeled clove of garlic
• 3 tbs (45 ml) of Monterinaldi extra virgin olive oil
• Salt and ground black pepper
• 4 ounces (125 ml) of white wine or warm water
Preparation:
1) Arrange the chicken slices vertically side by side on a cutting board, allowing slices to overlap.
2) Season the chicken with salt and pepper. Lay pancetta horizontally across chicken slices. Place cheese on top of the pancetta, and then top off with the spinach. Roll up the chicken and tie with cooking string.
3) Heat the Monterinaldi extra virgin olive oil and the garlic over medium heat.
4) Brown the chicken roll on all sides. Add the white wine or warm water, Wait for a few seconds while it evaporates, then cover and simmer for 10 minutes.
5) Cut chicken roll into slices. Serve with accompanying sauce.