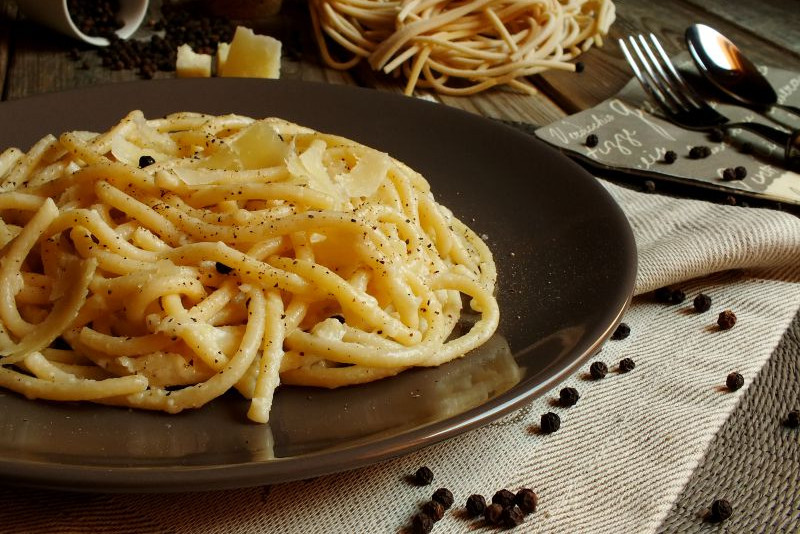 22 Jan

Pici cacio e pepe (Thick pasta, cheese and pepper)
A recipe as simple and fast as it is irresistibly tasty!
The Pici cacio e pepe (which roughly translates to 'spaghetti with cheese and black pepper') are a must for those who want to savour the typical Tuscan cuisine; it's a simple and quick yet tasty and flavourful recipe!
The pici are a sort of large, typical spaghetti from Siena, hand-made by mixing soft wheat flour with water and salt.
This type of pasta was the main source of nourishment of the poorest classes for many generations and was seasoned only with a drizzle of oil or even just with a little salt and chopped onion.
Ingredients:
• 400 g of Pici (or spaghetti)
• 150 g of pecorino Romano
• 50 g of parmesan
• 2 tablespoons of ground black peppercorns
• Salt to taste
Preparation:
1) To prepare the pici cacio e pepe you must start by putting the peppercorns in a mortar and reducing them to a coarse powder.
2) Transfer the ground pepper to a very large pan and toast it lightly.
3) Meanwhile bring a pot of salted water to a boil and add the pici.
4) After 2-3 minutes of cooking pasta, take a couple of ladles of cooking water and transfer them to the pan with the pepper so that it melts slightly.
5) Put the grated pecorino and parmesan in a glass bowl and add a little water at a time until you get a sort of cream.
6) A couple of minutes before the pasta is done cooking, drain the pici and transfer them to the pan with the pepper. If necessary, add another ladle of cooking water.
7) When the pici are done cooking, let them cool for a few seconds, add the cheese cream you prepared before and mix until creamy by quickly tossing the pasta.
At this point, all that's left to do is enjoy your hot pici cacio e pepe!