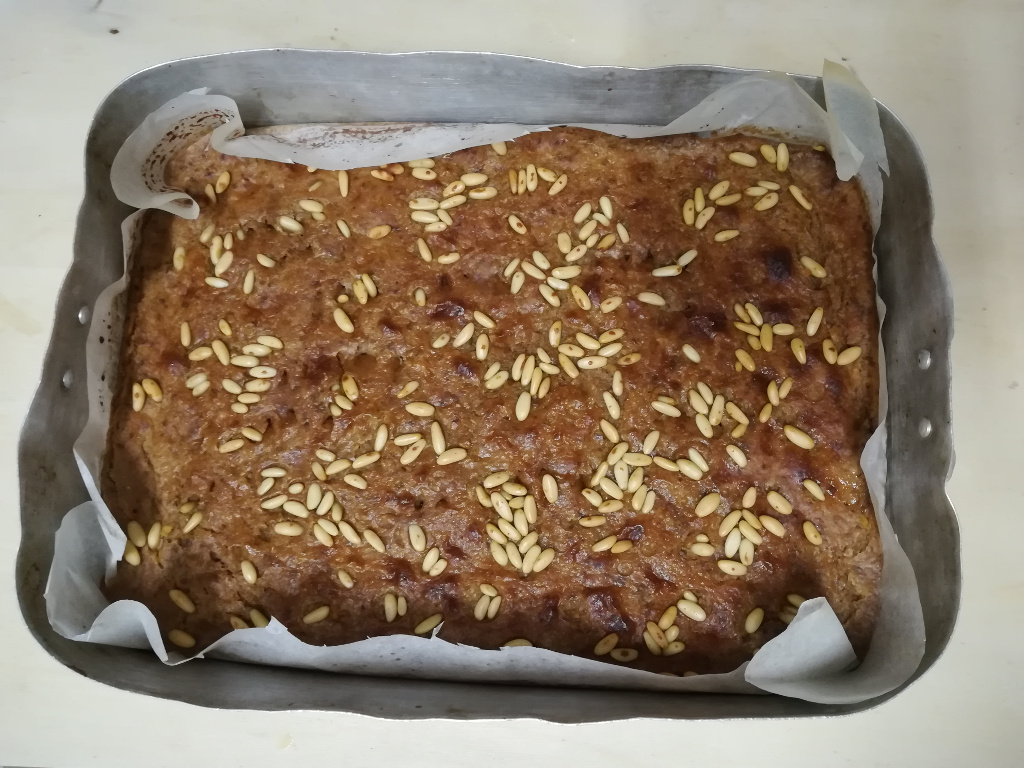 18 Dec

Castagnaccio
Castagnaccio
The Tuscan castagnaccio is a cake traditionally made in places where there are lots of chestnuts to be found. It has peasant origins, like its ingredients: the castagnaccio does not have any sugar or eggs, it is made with chestnut flour, pine nuts and walnuts; simple ingredients which produce a delicious, dense cake.
The recipe for castagnaccio is very easy and quick, but you need top-quality ingredients for it to turn out well. The chestnut flour, in particular, must be fresh to bring out all its natural sweetness. Castagnaccio is suitable for coeliacs because it is gluten-free.
For our recipe, we recommend using a blender or a mixer which has a 1.5-litre bowl, so that it can hold all the mixture.
Ingredients 
for a rectangular tin measuring 30x20cm or a round tin with a 26/28cm diameter:
300 g of chestnut flour
1 litre of whole milk
50 g of pine nuts
10 shelled walnuts
a teaspoon of salt
the skin of one orange
50 ml of extra virgin olive oil
Preparation:
1. Pre-heat the oven to high (220/250°C)
2. Shell the walnuts and chop them finely.
3. Chop the orange skin finely
4. Put part of the milk in the blender (low speed), and gradually add the chestnut flour, the remaining milk, chopped walnuts and orange skin
5. Place a piece of baking paper in the tin and pour the mixture from the blender onto it
6. Drizzle the extra virgin olive oil over the mixture and put it in the oven.
7. After five minutes, turn the temperature down to 140°C and take the tin out to spread an even layer of pine nuts over it. Since a sort of film may have formed on surface of the mixture, use a flat spoon to press the pine nuts firmly into the mixture.
8. Bake at 140°C for about 40'.
Notes
Air pockets may form during cooking. Use a fork or a toothpick to burst them as they form and release the air.
If you want a crust on the surface, turn the top grill on in the last five minutes of cooking or turn the oven back up to a high temperature.
Once cooked, leave the castagnaccio to cool before serving.
Castagnaccio is usually about 1/2" high. If your tin is very different in size to the one indicated, you may have to alter the quantity of ingredients accordingly.
As already mentioned, the quality of the ingredients is essential for this recipe to turn out well. You must always use fresh chestnut flour for this cake, so make your castagnaccio from October/November onwards when you can find flour that has just been produced. Do not use last year's flour!