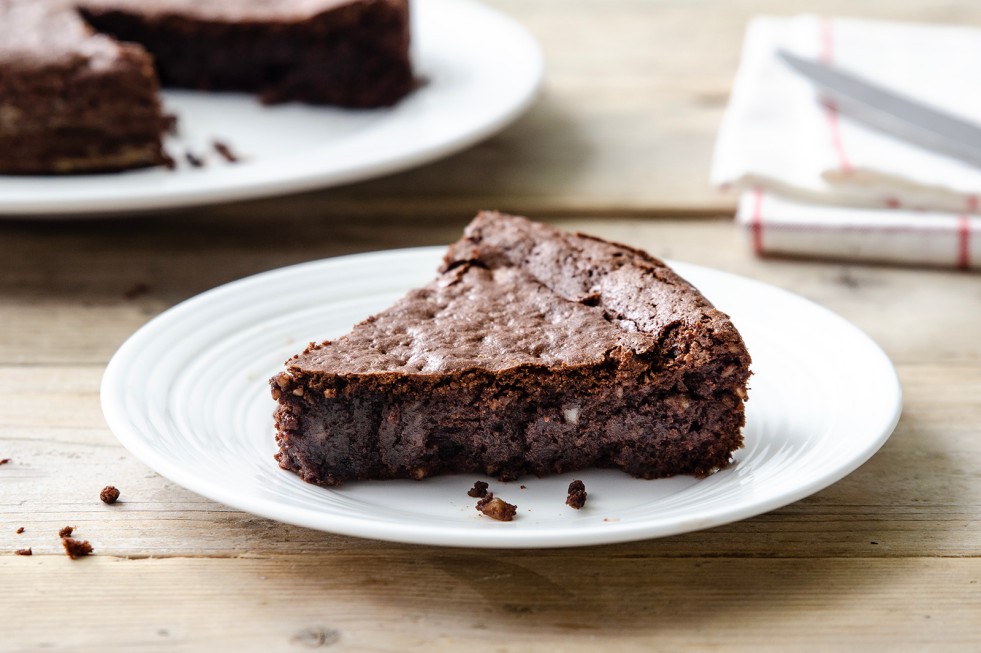 03 Nov

Chocolate cake
Chocolate cake
Chocolate cake without flour is a simple dessert made with a few ingredients – dark chocolate, butter, sugar and eggs – and not only does it have an amazing taste but also a deliciously soft and melt-in-mouth consistency.
It is, needless to say, a gluten-free chocolate cake and is perfect as a dessert after dinner. Enjoy it warm or at room temperature, however do not store it in the refrigerator: both consistency and taste will be affected.
Ingredients:
– 100 g of butter
– 200 g of dark chocolate
– 100 g of sugar
– 4 eggs
– 1 spoonful of potato starch
Preparation:
1) Melt the butter and the chocolate morsels in a medium-sized pot. Blend until the mixture is smooth and consistent then remove the pot from the stove.
2) Place the egg yolks in a bowl, add the sugar, and whisk with an electric mixer until you get a creamy mixture
3) In another bowl, once again using the electric mixer, whisk the egg whites
4) Add the whisked egg yolks and egg whites and potato starch to the chocolate and butter mixture, which in the meantime has cooled off.
5) Mix the mixture with a spatula, making a gentle movement from the bottom to the top to prevent the egg whites from deflating. This is the most delicate phase, and requires a few minutes of patient work to obtain a smooth and lump-free cream.
6) Grease with butter (or coat with baking paper) a baking dish that is roughly 25 cm in diameter and pour the mixture, distributing it gently.
7) Bake in the preheated oven at 160°C for about 35 minutes, until the surface of the cake is dry and slightly cracked. Remove the cake and let it rest for at least 15 minutes then place it in a serving plate. Serve the chocolate cake warm, or at room temperature.
It is sometimes useful to put a glass of water in the oven, so as to maintain a higher degree of humidity and to limit the number of cracks on the surface of the cake.
As you can see, the preparation is quite simple and quick. It takes around 15 minutes to prepare and 35 minutes to cook, so basically your chocolate cake will be ready in less than an hour. And it's a perfect dessert for your friends who are on a gluten-free diet!