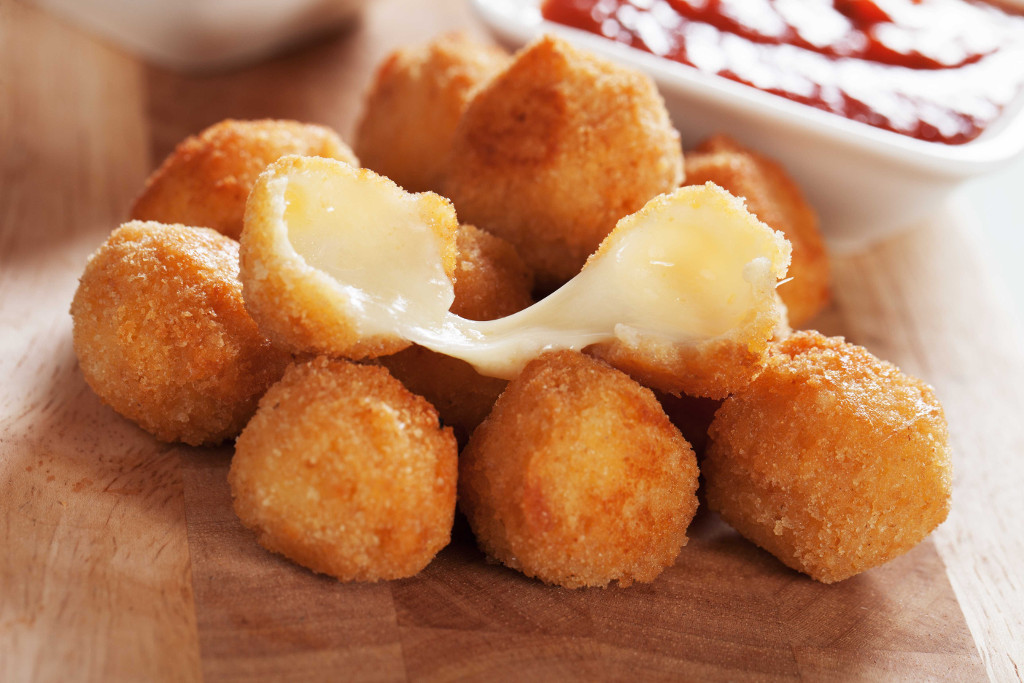 07 Jun

Fried Cheese Croquettes
Fried cheese croquettes (Crocchette al Formaggio)
Ingredients (16 pieces)
Butter 3.5 oz
Flour 3.5 oz
Milk 17.5 oz
Parmigiano Reggiano (grated) 3.5 oz
Emmenthal (grated) 3.5 oz
4 Eggs
1 tablespoon extravirgin olive oil
Nutmeg
Black Pepper
Salt
Bread crumbs
Preparation
Prepare a bechamel with the butter, the flour and hot milk. Once removed from the fire, add the eggs yolks one at time, then the grated cheeses, salt, pepper and nutmeg mixing well.
Lay the obtained paste on greaseproof paper giving a thickness of about 0.6 inch. Cover it and cool down into the fridge.
Add a spoon of olive oil to the egg whites and shake them just a little.
Prepare three bowls: the first with the flour, the second with the egg whites, the third with the bread crumbs.
When the paste is cooler and more solid, cut rectangles or circles or nuggets (as you prefer), and deep them into the flour first, then into the egg whites, and finally into the bread crumbs. Back into the fridge for a while (at least 30 minutes) to cool them again, then deep fry them into the hot oil for about 2/3 minutes.
Be sure to have the paste cold before frying, otherwise the crocchette will come out holed.
The paste can be prepared one day in advance, and held in the fridge until you need them.
The wine
Very tasty dish, wonderful combined with a sparkling white wine like Prosecco or Spumante.
Buon Appetito!