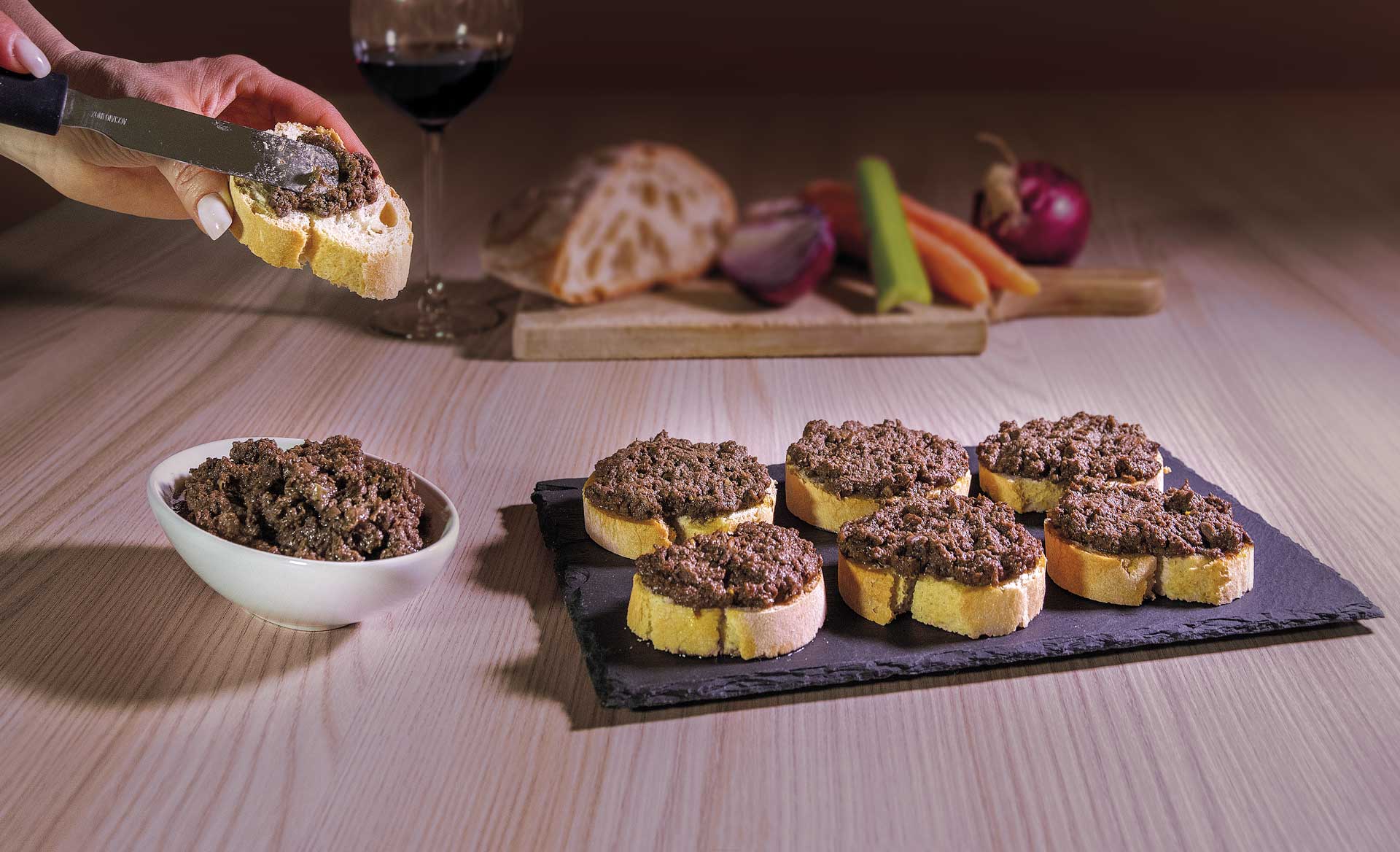 03 Nov

Crostini neri (Black Crostini)

In Tuscany, Sunday would not be the same without "crostini di fegatini" (toasted bread slices and chicken liver patè), known as "crostini toscani" in other regions or "crostini neri" if you are from Tuscany! This a typical, authentic Tuscan recipe and every family has its own secret ingredient when making it!

The preparation method is simple and teaches us never to throw anything away that can be eaten. It is actually better to use left-over bread from the day before which must only be Tuscan bread, meaning no salt!

This recipe is considered a peasant dish because it is made with chicken scraps and stale bread, as already mentioned, but, in actual fact, you could say it is a perfect blend of peasant and bourgeois cooking which enhanced dishes with spices and decidedly more noble ingredients, such as stock vegetables (onion, celery and carrot), fats (oil or butter), anchovies, capers and wine.

This is obviously just the base, but there are endless variations, even if minor and every family has its own jealously guarded secret version. Serving this starter with a good glass of Chianti Classico, however, will no doubt solve any differences of opinion!

Ingredients

8 slices of Tuscan bread
500 g of chicken livers
4 anchovies preserved in oil
1 spoon of capers preserved in salt
1 carrot
1 onion
1 celery stick
1 glass of dry white wine
Castello Monterinaldi extra virgin olive oil as required
Salt as required

Preparation

Chop up the celery, carrot and onion and brown them in an earthenware pot with a spoonful of extra virgin olive oil for about 5 minutes.

Add the chicken livers from which the sinew has been removed (this step is very important because the sinew has a bitter taste!)

Brown the chicken livers, then douse them with the glass of white wine and allow it to evaporate.

Cook the chicken livers and add the anchovy fillets and capers which have been thoroughly rinsed.

Allow the ingredients to cool and then, chop them all finely with a knife.

Toast the slices of Tuscan bread and spread the chicken liver paté on top.

The "crostini toscani" are now ready to be enjoyed with a good glass of Chianti Classico!