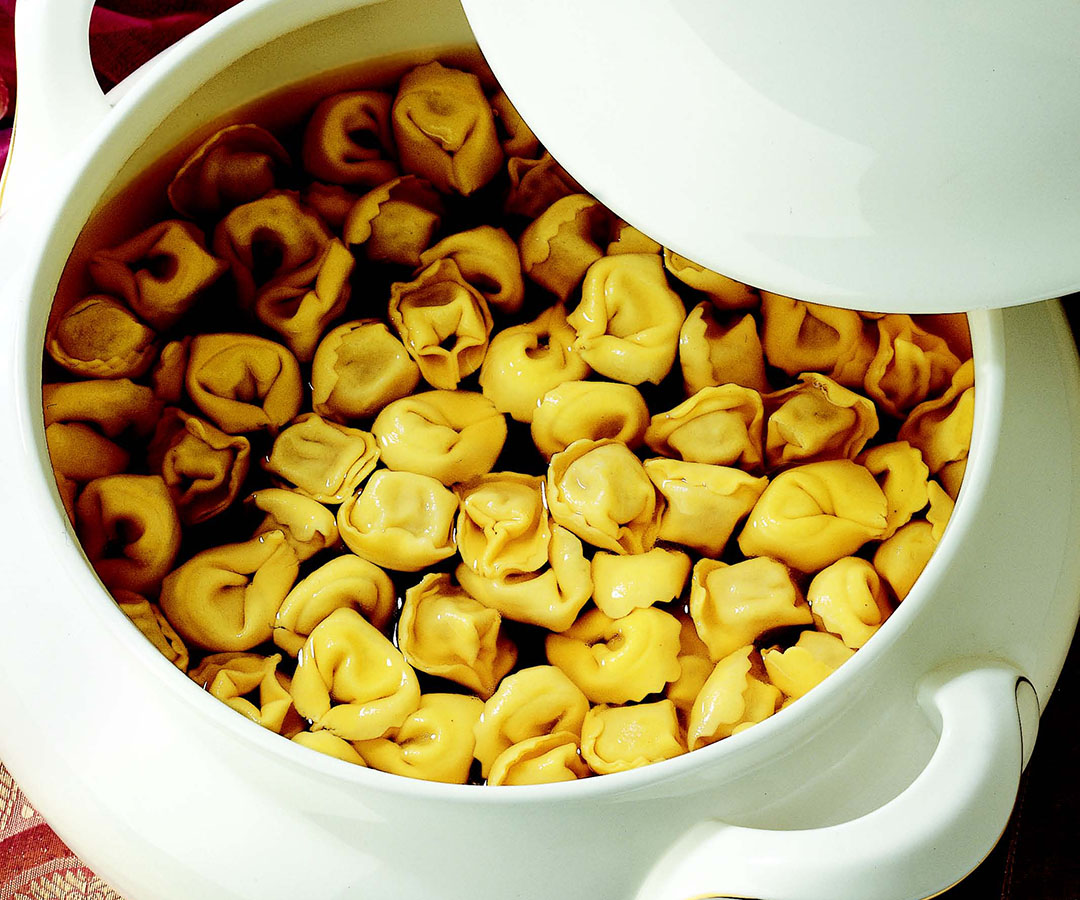 07 Dec

Tortellini in broth

Tortellini in broth are a traditional first-course dish from Emilia Romagna consisting of filled pasta. Home-made tortellini, small parcels of egg pasta enclosing a delicious filling of meat, cured ham, mortadella and Parmigiano Reggiano, are a speciality of the Italian culinary tradition and are always served in the Christmas holiday period.

This first course is a firm favourite and eaten in winter, in particular when the cold weather makes the choice of piping hot and steaming dishes, ranging from soups to broths, all the more tempting. But they are also a classic dish for this time of year, frequently served in a meat-based broth on Christmas Day.

Ingredients for tortellini in broth for 4-6 people (about 800g of tortellini)
For a tasty stock
600g of broiler chicken
400g of beef
1 bone for stock
2-3 litres of water
1 large yellow onion
2 carrots
1 celery stick
For the pasta
300g of flour
3 eggs
For the filling
150g of pork loin
75g of mortadella
50g of cured ham
75g of grated Parmigiano reggiano
1 egg
salt and nutmeg
Preparation:
– First prepare the broth. Cut the onion in half and roast it in a pan without any oil until it browns.
– Sprinkle the meat with salt and put all the ingredients in cold water. Bring to the boil and turn the heat right down. The broth will be ready in about 3 hours.
– In the meantime, prepare the pasta by mixing the eggs with the flour, then, cover the dough and leave it to rest for about 30 minutes.
– For the filling, cut the pork loin into 2 cm strips and sear in a frying pan, without any oil, on both sides. Then, adjust the salt and leave to cool.
– Mince the seared pork loin, mortadella and cured ham in the mincer. Add the egg, nutmeg and grated Parmigiano reggiano.
– Roll out the egg pasta dough thinly and cut into squares measuring about 2.5 cm (1″) on each side. Place the filling in the centre, fold into a triangle and then, wrap them around your little finger to form parcels.
– Cook the tortellini in boiling broth for two minutes and serve piping hot!